Today is Tuesday, so I know I'm going to focus on something fitness related for the Tough It Out linkup. However, my focus has shifted several times so you're getting three different topics today!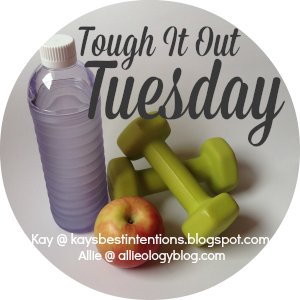 A Great Gym Bag!
I thought I had it all figured out and I would focus my attention on this nifty gym bag that I'm in love with:
Separate storage for my shoes.
Bright, pretty colors!
Lots of compartments on the outside and inside to help with organizing.
A spot to store your jewelry! This snaps off and you can slide your necklace, ring, and bracelets on it. Then, there are two little holes where you can store your earrings.
It even has a built in yoga mat holder on the outside. I love that I can carry everything with one bag! I'm thinking it'll make a nice beach bag as well – just replace the yoga mat with a towel…
For more information about how to get this bag for yourself, contact me by email or in the comments. It is an April special through Thirty One. I just fell in love with it too much that I couldn't help but sharing it on the blog!
Losing Motivation
This past week presented me with a lot of negatives and bad news in my life. Add this recent sick spell and I have not had the motivation that I was having. I will say that being sick helps on the scale, but I also know that it's not the best way to help the scale. And the scale isn't really my goal – getting fit is. I will be getting back on track as soon as my body is up to it. Right now, surviving a day of work tomorrow will be a workout for me. I have continued to log my food during this sickness and the poor
A New (Doable) Challenge



As I was going to find the link up image for today, I got caught up in reading Kay's
post
about starting the 1800 minute challenge. I went over to
Living in Yellow
and discovered that this is an awesome and doable challenge! With the end of the school year pressing closer, I know my schedule is only going to get busier. This challenge allows for an average of 30 minutes of fitness a day. The best part of the challenge is that if you skip a day, you can make it up on another day because the 1800 minutes accumulates from April 1st-May 31st. Sadly, I'll be starting off with 0 minutes today (still on doctor's orders of plenty of rest) but I can make up for that later! Come on! Join the fun!